Sorry for the combined post, but it's been quite peaceful at the rescue this week, since everyone was busy with their families and the holidays. The regular crowd was out to see their horses: Sam, Katie, Lynn, Kassi, Becca, and Joey, but we have welcomed a number of new volunteers over the last few weeks. A new volunteer, Michelle has been an enormous help so far--bringing bags of equine senior, mucking stalls, and, of course, feeding the horses lots of carrots. Welcome, Michelle!
Sue is doing much better. Her foot is healing nicely. Dr. Rosario made a barn call to see Lynn's horse, Gracie. Gracie was acting lame, but the vet determined it might actually be something going on with her back rather than her legs. On a similar note, Kassi and Michelle noticed Hope standing alone in the big field, shivering. On the 28th, the weather had taken a turn for the worse. Cold, steady rain made most of the horses head inside for shelter. But Kassi and Michelle noticed Hope was having trouble walking, like her muscles were tying up. Because Hope can be difficult to catch, Becca and Joey hurried to Eagle Creek to catch her and get her inside for a thorough inspection. At first, Hope didn't want to be caught at all. But after some carrot bribes, she relented. Becca was able to halter her and bring her inside the arena.
Hope was shivering, and after being towel-dryed and covered in a fleecy cooler sheet, walked around the arena. She did seem to be almost goose-stepping, or like she had mild stringhalt. Hope started moving normally once she was given some hay to eat. Eating hay can help a cold horse get warm again. The internal heat generated from all that chewing will warm them up. Since the weather was so terrible, and Jim had fed hay in the barn instead of the pasture, it's possible she just got pushed out into the rain. Hope seemed much happier to have all the attention and food to herself. Everyone was so busy with the holidays that there hasn't been much riding going on, so Hope got to spend the night in the arena (none of the stalled horses were that receptive to having a new roommate!). Buddy got to spend the night in the arena with Hope, to keep her company. They are quite cordial to each other (and Becca hopes that they will become best friends so that she can take both out at once!), and seemed to enjoy each other's company and the dry arena.
The next day, Becca and Joey came out early to check on Hope, and to see if she possibly needed vet attention. Upon arrival, they were happy to note that Hope was definitely dry and in much better spirits after spending a luxurious night in the arena. Sam palpated Hope's hooves for abcesses and found nothing. Hope's legs weren't hot to the touch or swollen, but she did have sore points on her back and withers. Sam came to the conclusion that perhaps Hope had slipped in the pasture and was pretty achy and brusied. Combined with the freezing rain and getting kicked out of the barn during dinner, well, she wasn't feeling great. Horses like Natasha, Caroline, and Dallas were all ready to leave their stalls and go back outside, so Hope got to move indoors for stall rest. Everyone will be keeping an eye on her. Hopefully the stall rest will do the trick. If not, Hope will be seeing Dr. Rosario for a check-up.
In other news, Dakota was adopted this week! She'll be living in St. Helens. Dakota, for those of you who don't know her, is a dark bay mare and a granddaughter of Seattle Slew. She has gone through some training, but needed a special person of her own. Congratulations to Dakota and her new owner! We wish you all the best of luck!
More updates tomorrow, but we'll close this blog with pictures of feeding time at the rescue We hope everyone had an excellent Christmas, and Happy New Year!
Thanks for following our updates!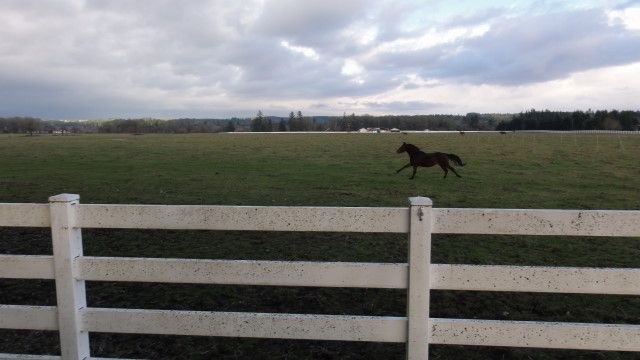 Maverick? (sometimes it's hard to tell the bays apart!)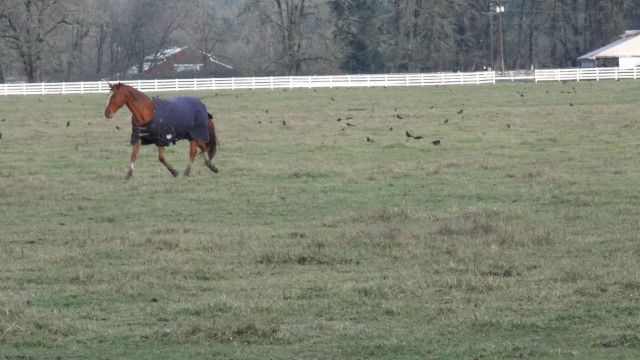 Shannon
Peanut Butter Boy is first in line today!